Great books for children – for ages 7-14 years
9th September 2021
Motivating children to willingly pick up a book, can be a challenging task. Yet, making sure that what they are reading is stimulating and age appropriate, can be even harder. Don't fear, we've put together a list of books that children love, so that you don't have to!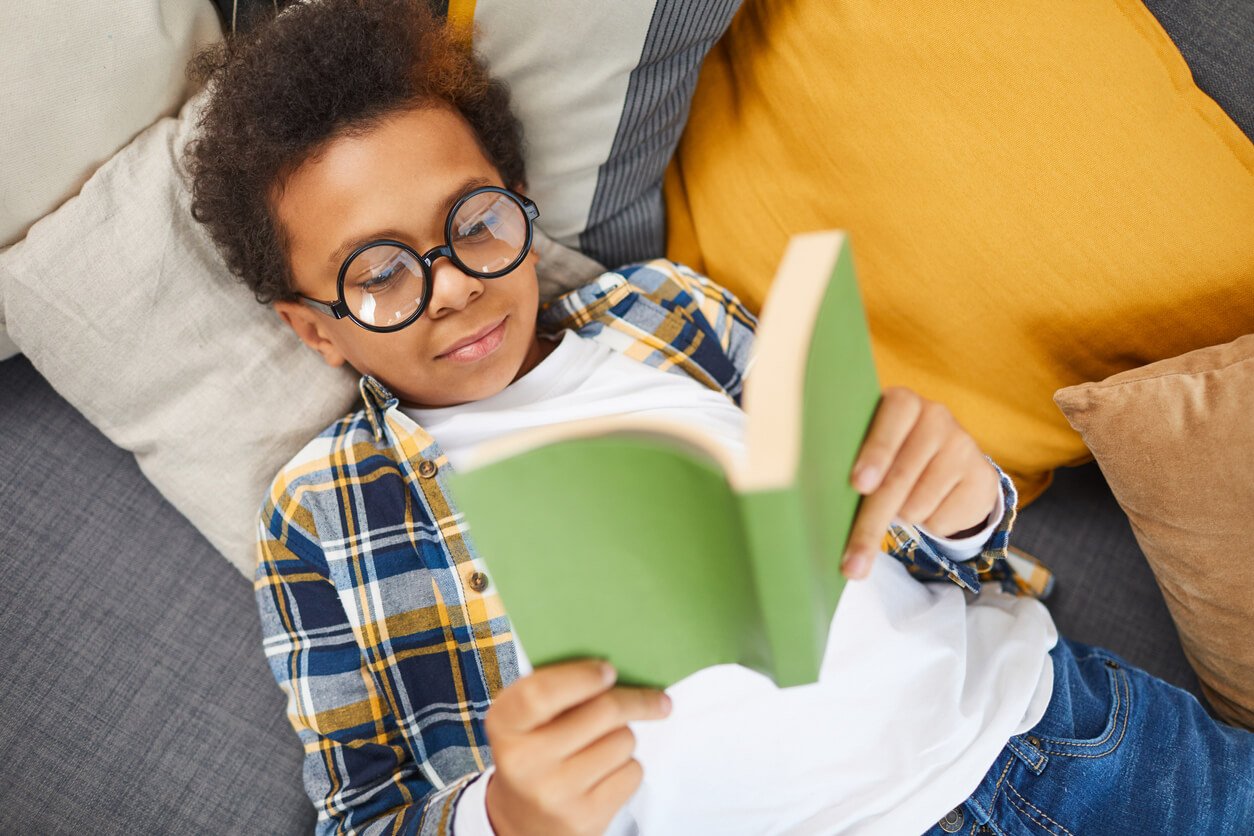 This article is packed with great novels, including both classics and recently published work, that are sure to encourage your child's passion for reading. These books combine thought-provoking storylines with important lessons, and are highly enjoyable to read.
Aged 7-9 years
The Danger Gang – Tom Fletcher
'Franky's always wanted to be part of an amazing gang – just like his hero, super-spy Zack Danger! And soon, he realises that there's real danger in store for himself and his new friends.'
The BFG – Roald Dahl
'The BFG stands for Big Friendly Giant, who unexpectedly spirits a little girl named Sophie out of bed, and into the land of the child-eating giants.  With Sophie in his top pocket, the BFG sets off to rid the world of the big, gruesome giants who guzzle up 'human beans' – the Bloodbottler, the Fleshlumpeater and all their rotsome friends.'
Frozen in time – Ali Sparkes
'Ben and Rachel Corder are sure they're in for the longest, dullest summer ever, until they discover an underground vault at the bottom of their garden with an amazing secret inside – two children from the 1950s who have been asleep for decades.'
The Lion the Witch and the Wardrobe – C.S Lewis
'Narnia… the land beyond the wardrobe door, a secret place frozen in eternal winter, a magical country waiting to be set free.
Lucy is the first to find the secret of the wardrobe in the professor's mysterious old house. At first her brothers and sister don't believe her when she tells of her visit to the land of Narnia. But soon Edmund, then Peter and Susan step through the wardrobe themselves. In Narnia they find a country buried under the evil enchantment of the White Witch. When they meet the Lion Aslan, they realise they've been called to a great adventure and bravely join the battle to free Narnia from the Witch's sinister spell.'
If you would like to hear what a First News reader thought of this book, check out our Your reads! page
Journey to the River Sea – Eva Ibbotson
'Orphan Maia is thrilled to learn she is to live with relatives in South America. She cannot wait to experience the sights, sounds and smells of the Amazon and is particularly looking forward to meeting her twin cousins.
When Maia arrives, however, the family is far from welcoming and she is saddened to see that they have blocked out all evidence of the rainforest from their stuffy home. Maia turns to her strict yet kindly governess, Miss Minton, for company, and strikes up some unusual and rewarding friendships.'
Born to Run – Michael Morpurgo
'The bag wasn't just drifting gently along, it was turning of it's own accord. There was something inside it, squeaking and squealing in terror. Patrick didn't think about it. He shrugged off his school bag and leaped into the canal.
For Best Mate, being rescued from drowning as a young puppy is only the start of his adventures. From unwanted burden to favourite companion, and from pet to champion race dog, this remarkable greyhound proves that it's not just cats who have more than one life. Cast aside, kidnapped, adopted or living rough on the streets, Best Mate can always find a way to survive. But will he ever find a real home?'
If you would like to hear what a First News reader thought of this book, check out our Your reads! page
Slime – David Walliams
'Welcome to the Isle of Mulch. This little island is home to a large number of horrible grown-ups. The school, the local park, the toy shop and even the island's ice-cream van are all run by awful adults who like nothing more than making children miserable. And the island is owned by the most awful one of all – Aunt Greta Greed!
Something needs to be done about them. But who could be brave enough?
Meet Ned – an extraordinary boy with a special power. SLIMEPOWER!'
If you would like to hear what a First News reader thought of this book, check out our Your reads! page
The House That Sailed Away – Pat Hutchins
'Grandma, Mother, Father, Morgan, the baby and Tailcat find themselves thrown into the strangest adventures when their house floats off down the street.'
The Sheep Pig – Dick King Smith
'When Babe, the little orphaned piglet, is won at a fair by Farmer Hogget, he is adopted by Fly, the kind-hearted sheep-dog. Babe is determined to learn everything he can from Fly. He knows he can't be a sheep-dog. But maybe, just maybe, he might be a sheep-pig.'
George's Marvellous Medicine – Roald Dahl
'George's nasty old grandma needs teaching a lesson. George decides the best remedy for her grumpiness is a special home-made medicine. But Grandma gets more than she bargained for!'
All because of Jackson – Dick-King Smith
'How did the humble rabbit originally find its way to Australia? And what caused the great Australian plague of rabbits? Simple – according to Dick King-Smith, it was all because of Jackson. A superbly-told story of a young rabbit whose dream of travelling overseas comes true.'
Alice's Adventures in Wonderland – Lewis Carroll
'After a tumble down the rabbit hole, Alice finds herself far away from home in the absurd world of Wonderland. As mind-bending as it is delightful, Lewis Carroll's 1865 novel is pure magic for young and old alike.'
If you would like to hear what a First News reader thought of this book, check out our Your reads! page
Aged 10-12 years
Artemis Fowl – Eoin Colfer
'Twelve-year-old villain Artemis Fowl is the most ingenious criminal mastermind in history. His bold and daring plan is to hold a leprechaun to ransom. But he's taking on more than he bargained for when he kidnaps Captain Holly Short of the LEPrecon (Lower Elements Police Reconnaissance Unit). For a start, leprechaun technology is more advanced than our own. Add to that the fact that Holly is a true heroine and that her senior officer Commander Root will stop at nothing to get her back and you've got the mother of all sieges brewing!'
Goodnight Mister Tom – Michelle Magorian
'Willie Beech is evacuated to a tiny English village in the country just before the outbreak of World War II. A lonely and deprived child, he finds himself living with the reclusive, gruff old widower, Thomas Oakley.'
If you would like to hear what a First News reader thought of this book, check out our Your reads! page
I am David – Anne Holm
''You must get away tonight,' the man had told him. David escapes from the concentration camp where he has spent his entire life and flees across Europe. He is utterly alone – who can he trust? What will await him? And all the while, how can he be sure that they won't catch up with him…'
The Railway Children – Edith Nesbit
'They were not railway children to begin with. When their Father mysteriously leaves home Roberta (everyone calls her Bobbie), Phyllis and Peter must move to a small cottage in the countryside with Mother. It is a bitter blow to leave their London home, but soon they discover the hills and valleys, the canal and of course, the railway. But with the thrilling rush and rattle and roar of the trains comes danger too. Will the brave trio come to the rescue? And most importantly, can they solve the disappearance of their Father?'
Boy Underwater – Adam Baron 
'Cymbeline is an unusually named 9 year old, who has never been swimming. He's extremely good at other sports, however, so he's sure it can't be difficult. When his school announces that his year will be starting swimming lessons, he boasts to the class bully that he is an epic swimmer. His overconfidence is rewarded with an accident – and an embarrassing one at that. However, worse than this, his mother appears to experience some form of breakdown as a result. What is wrong with her? Why has she never taken Cym swimming? And how is this all linked?'
Wolf Brother – Michelle Paver
'Six thousand years ago. Evil stalks the land. Only twelve-year-old Torak and his wolf-cub companion can defeat it. Their journey together takes them through deep forests, across giant glaciers, and into dangers they never imagined.'
Swallows and Amazons – Arthur Ransome
'The Walker children – also known as Captain John, Mate Susan, Able-Seaman Titty, and Ship's Boy Roger – set sail on the Swallow and head for Wild Cat Island. There they camp under open skies, swim in clear water and go fishing for their dinner. But their days are disturbed by the Blackett sisters, the fierce Amazon pirates. The Swallows and Amazons decide to battle it out, and so begins a summer of unforgettable discoveries and incredible adventures.'
The Boy in The Tower – Polly Ho-Yen
'Ade loves living at the top of a tower block. From his window, he feels like he can see the whole world stretching out beneath him. His mum doesn't really like looking outside – but it's going outside that she hates. She prefers to sleep all day inside their tower, where it's safe. Except it isn't any more. Strange plants have started to take over and tower blocks are falling down around them. Now Ade and his mum are trapped and there's no way out …'
Northern Lights – Phillip Pullman
'Lyra and her animal daemon live a carefree life amongst the scholars of Jordan College, Oxford. Yet the destiny that awaits her will take her far from her home, to the magical frozen lands of the Arctic, amongst the witch-clans and ice-bears. Here, she will discover the truth about her identity, which will have immeasurable consequences reaching beyond her own world.'
Midnight for Charlie Bone – Jenny Nimmo
'Charlie is unnerved to discover that he can hear people in photographs talking. His aunts take an unhealthy interest in his gift and send him to the notorious Bloor's Academy, where he meets other children with 'endowments' (magical powers).
What happened to the girl in the photograph and why is everyone so interested in the metal case that Charlie has been given to look after? Charlie and his friends will need all their wits about them if they are to unravel the mystery before it is too late.
This gripping and imaginative fantasy has a fascinating cast of characters, and a tantalising 'to be continued' at the end will leave readers desperate for more.'
How to Train your Dragon – Cressida Cowell
'Hiccup Horrendous Haddock the Third is a smallish Viking with a longish name. Hiccup's father is chief of the Hairy Hooligan tribe which means Hiccup is the Hope and the Heir to the Hairy Hooligan throne – but most of the time Hiccup feels like a very ordinary boy, finding it hard to be a Hero.
In the first How to Train Your Dragon book Hiccup must lead ten novices in their initiation into the Hairy Hooligan Tribe. They have to train their dragons or be BANISHED from the tribe FOR EVER!'
If you would like to hear what a First News reader thought of this book, check out our Your reads! page
Nancy Drew Mystery Stories – Carolyn Keene
'The Secret of the Old Clock is the mystery that began it all for America's favourite teenaged sleuth. The accidental rescue of a little girl who lives with her two great-aunts leads to an adventurous search for a missing will.'
If you would like to hear what a First News reader thought of this book, check out our Your reads! page
Aged 13 years +
Noughts and Crosses – Malorie Blackman
'Sephy is a Cross – a member of the dark-skinned ruling class. Callum is a nought – a 'colourless' member of the underclass who were once slaves to the Crosses. The two have been friends since early childhood. But that's as far as it can go. Until the first steps are taken towards more social equality and a limited number of Noughts are allowed into Cross schools… Against a background of prejudice and distrust, intensely highlighted by violent terrorist activity by Noughts, a romance builds between Sephy and Callum – a romance that is to lead both of them into terrible danger…'
Wonder – R.J. Palacio
'August (Auggie) Pullman was born with a severe facial difference that, up until now, has prevented him from going to a mainstream school. Starting 5th grade at Beecher Prep, Auggie wants nothing more than to be treated as an ordinary kid—but his new classmates can't get past his extraordinary face.'
If you would like to hear what a First News reader thought of this book, check out our Your reads! page
Roll of Thunder, Hear My Cry – Mildred Taylor
''We have no choice of what colour we're born or who our parents are or whether we're rich or poor. What we do have is some choice over what we make of our lives once we're here.' The Mississippi of the 1930s was a hard place for a black child to grow up in, but still Cassie didn't understand why farming his own land meant so much to her father. During that year, though, when the night riders were carrying hatred and destruction among her people, she learned about the great differences that divided them, and when it was worth fighting for a principle even if it brought terrible hardships.'
Noah Can't Even – Simon James Green
'Poor Noah Grimes! His father disappeared years ago, his mother's Beyonce tribute act is an unacceptable embarrassment, and his beloved gran is no longer herself. He only has one friend, Harry, and school is… Well, it's pure hell. Why can't Noah be normal, like everyone else at school? Maybe if he struck up a romantic relationship with someone – maybe Sophie, who is perfect and lovely – he'd be seen in a different light? But Noah's plans are derailed when Harry kisses him at a party. That's when things go from bad to utter chaos.'
In The Mouth Of The Wolf – Michael Morpurgo and Barroux
'Francis and Pieter are brothers. As the shadow of one war lingers, and the rumbles of another approach, the brothers argue. Francis is a fierce pacifist, while Pieter signs up to fight. What happens next will change the course of Francis's life forever … and throw him into the mouth of the wolf.'
If you would like to hear what a First News reader thought of this book, check out our Your reads! page
Holes – Louis Sachar
'Stanley Yelnats' family has a history of bad luck, so when a miscarriage of justice sends him to Camp Green Lake Juvenile Detention Centre (which isn't green and doesn't have a lake) he is not surprised. Every day he and the other inmates are told to dig a hole, five foot wide by five foot deep, reporting anything they find. The evil warden claims that it is character building, but this is a lie and Stanley must dig up the truth.'
Love Me Not – Holly Smale
'Party girl actress Mercy Valentine is nobody's hero and that's how she wants it. She's sarcastic, sharp and always defensive – so no one can hurt her ever again. Mercy's starring in a major theatre show and hitting the gossip headlines, but her glamorous world is about to come crashing down. And when Mercy crashes there will be fireworks…'
The Enemy – Charlie Higson
'Buckingham Palace becomes a refuge for kids fleeing zombie infested London. In yet another fast-paced futuristic thriller, readers are caught up in the action and intensity of teens trying to survive as a horrible disease sweeps across England.'
Small Blue Thing – S. C. Ransom
'Alex is a teenage girl dealing with the teenage concerns of driving lessons, exams, friends and boyfriends. When she finds an opal bracelet half-buried on the banks of the Thames, Alex discovers something extraordinary. The bracelet allows her to communicate with Dirges, the people who have drowned in the Thames, including the handsome, mysterious Callum. But can Alex really trust him? The bracelet and the Dirges are mysterious things, and even the bracelet seems to have a will of its own…'
The Martian – Andy Weir
'Six days ago, astronaut Mark Watney became one of the first people to walk on Mars. Now, he's sure he'll be the first person to die there. After a dust storm nearly kills him and forces his crew to evacuate while thinking him dead, Mark finds himself stranded and completely alone with no way to even signal Earth that he's alive—and even if he could get word out, his supplies would be gone long before a rescue could arrive.'
Little Women – Louisa May Alcott
'The novel follows the lives of four sisters—Meg, Jo, Beth, and Amy March—detailing their passage from childhood to womanhood. 
The story begins at Christmas time. The March girls, Meg, Jo, Beth and Amy, are unhappy because they have agreed to give up their Christmas presents.'
The Diary of a Young Girl – Anne Frank
'Discovered in the attic in which she spent the last years of her life, Anne Frank's remarkable diary has become a world classic—a powerful reminder of the horrors of war and an eloquent testament to the human spirit.'
Still unsure which amazing book to choose? Some of our readers have told us their thoughts on a few of the books mentioned in this article, which you can read in our Your Reads! section.
Categories
You might also like