Special Report | Childhood Cancer Awareness Month
15th September 2021
September marks Childhood Cancer Awareness Month. It's a time to increase public awareness and understanding of cancers that affect people under 25 and recognise the work that scientists across the UK and around the world are doing, to help more children and young people survive their cancer with a good quality of life.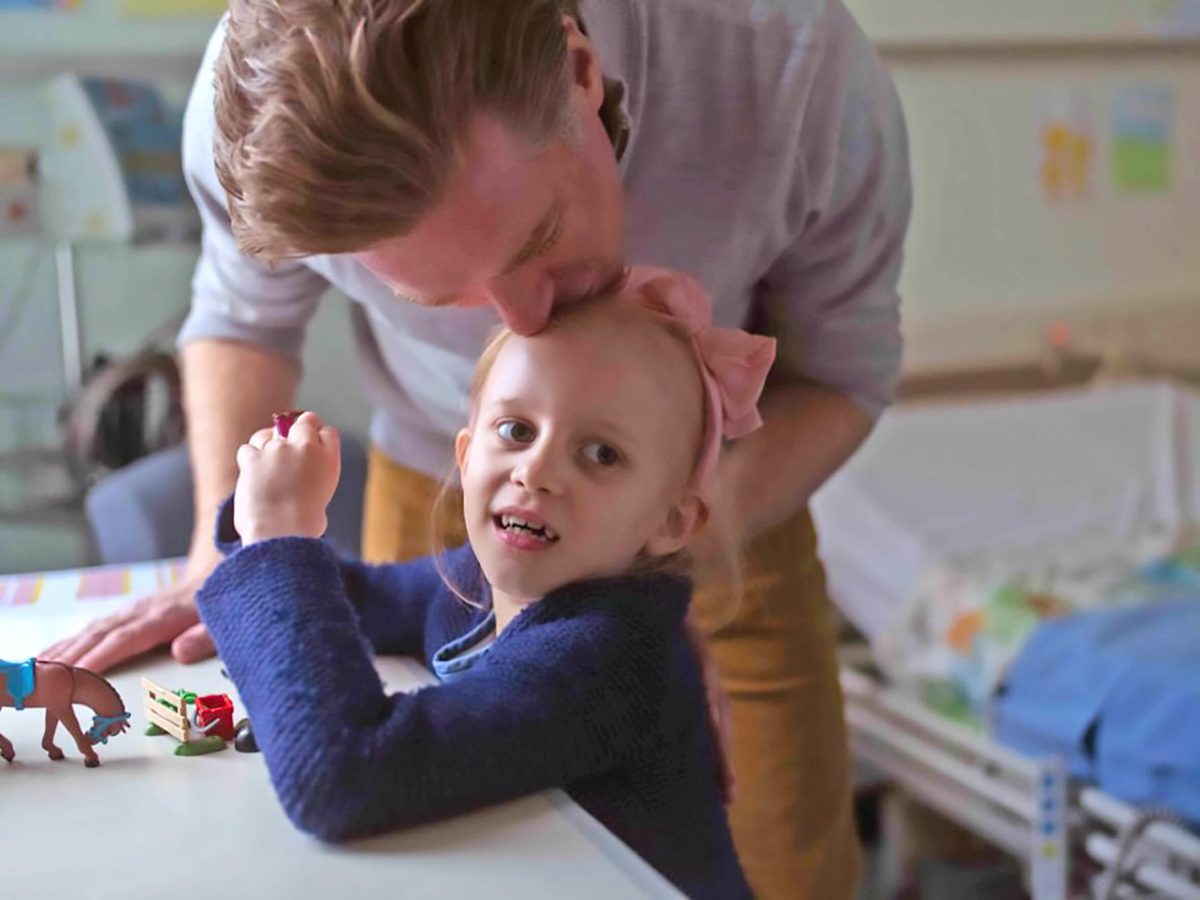 This week we spoke to five-year-old Ariana, who was diagnosed with a type of cancer known as leukaemia last year, and found out how her family are helping her through it. First News also caught up with one of Cancer Research UK for Children & Young People's scientists, Andi Roy, to learn a bit more about what leukaemia is, why it occurs and the work she's doing to improve treatment for it.
Meet Ariana
Ariana was diagnosed with leukaemia in autumn 2020. She had never missed a day of school before, but during the coronavirus lockdown last year she began to tell her mum she was feeling cold and tired. When she developed a high temperature, her dad took her to hospital, where the family were told the news of her diagnosis.
When Ariana started the treatment for her leukaemia, it began a whirlwind of change in the family's life. Her mum Stephanie read all the books she could find on cancer to try to better understand what her daughter was going through. Ariana's two sisters, Bella and Lyra, helped care for their sister and played with her when she was well enough. Bella even wrote a song for Ariana with a little help from a friend and her dad Chris, which she called Warrior.
Now, as Ariana recovers from the hardest phase of her treatment, the sisters love to sit at the piano and hear Bella play her song. Mum Stephanie said:"Ariana has been incredible. She has accepted her cancer treatment as her new reality. As a family, we felt we had the energy and focus to be open about her illness, so we decided to be her voice."
Learning about leukaemia
To help us understand more about leukaemia, Dr Andi Roy, who specialises in children and young people at Cancer Research UK, explained more about the disease.
"Fortunately, children's cancers are rare. The most common types are leukaemias like Ariana's, which affect around 520 children in the UK every year.
"To understand how and why leukaemia starts in children, it helps to understand cells. These are the building blocks of all living things. There are lots of different types of cells, which each have a different job to do. A human body is made up of more than 30 trillion of them."
"Every cell contains instructions, and produces signals in the body to control how much and how often they grow and divide, so that your body has just the right number. If any of these instructions or signals are faulty or missing, those specific cells can start to grow and multiply out of control. These are cancer cells. Leukaemias happen when these cancer cells form in the bone marrow, which is the spongy inside part of your bones that make blood cells."
"Leukaemias are usually treated with drugs, in what's known as chemotherapy. This treatment can be very hard for children and can mean long stays in hospital and less time doing things with family and friends. Some children treated for cancer also experience longterm side-effects, like hearing loss or not being able to have children."
"This is something we want to change by researching and developing new treatments that improve survival and reduce side-effects. My work as a Cancer Research UK for Children & Young People scientist is to find the best treatments for children with leukaemia, especially ones that won't cause harm to the child. I want to see all children completing their treatment and going on to live full and happy lives."
How to support childhood cancer awareness month
You can help more children and young people survive their cancer with a good quality of life by donating a bag of pre-loved quality clothes, accessories and homeware to your local TK Maxx store. Donated items will go to Cancer Research UK shops to be sold, and each bag could raise up to £25 for Cancer Research UK for Children & Young People.
Categories
You might also like