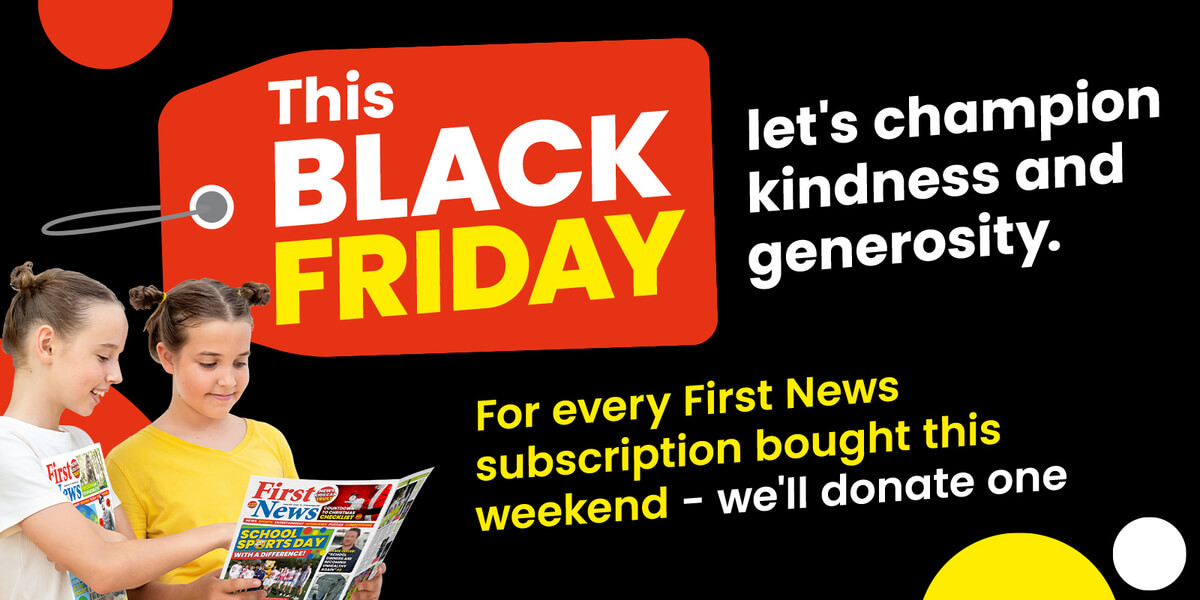 This Black Friday let's champion kindness…
Every week our readers share their stories of the many things they do to fundraise for charities and good causes. So, this Black Friday we've been inspired to do things a little differently.
For every subscription bought over the Black Friday weekend (26-29th Nov) we will donate a 10 week print subscription to a child who might otherwise not have access to First News.
Here at First News we passionately believe in giving children a voice, and empowering them by giving them an understanding of the world and their place in it. Although children are only 27% of the world's population, they are 100% of the future and we want them to know they can achieve great things.
We have teamed up with a number of charities to make sure that the subscriptions are properly distributed – you can read more about them below.

Chickenshed is an inclusive theatre company. We started in a disused chicken barn in Barnet in 1974. Forty-seven years later our inclusive creative process is well-known nationally and internationally.
Chickenshed is a professional theatre AND an education institution AND a place where people can come to participate in theatre after school.
We are bursting with people who contribute diverse skills, interests and experiences to create exciting theatre. The results reflect everything that is wonderful about each of individual – and everything that they want to do to make their world better.
Chickenshed provides a portrait of inclusion – children, young people and adults – sharing their vision of inclusion in a way that shows them as the best that they can be.
By bringing together people of all ages and from all backgrounds, Chickenshed produces theatre that entertains, inspires and challenges both audiences and participants alike.  We create a society that celebrates diversity and enables every individual to flourish.

Bournemouth Foodbank has worked tirelessly since 2008 to provide nutritionally balanced emergency food parcels to local people facing crisis. This could be because a person is facing debt, homelessness or fleeing domestic violence among many other reasons.
The Bournemouth area is currently ranked the third highest in the country for people struggling to afford food according to recent findings from Food Foundation and Sheffield University. Food poverty has risen significantly, not least because of the Covid-19 pandemic, and Bournemouth Foodbank is currently providing 15,000 meals a year to the very poorest people in Bournemouth.
The Foodbank partner with nearly 200 agencies who issue vouchers to people in the community who are facing hardship through crisis. They then work with clients to meet their practical and emotional needs as well as providing training on budgeting and signposting them to specialist services.
T&Cs
First News will donate a 10 week print subscription for every subscription bought between 8am Friday 26th November 2021 to 11.59pm Monday 29th November 2021.
Donated subscriptions will be distributed by our charity partners.
Donated subscriptions are at our discretion – if we deem any orders to not be genuine, especially in relation to our 6 free issue offer, then we reserve the right to not match this order.