Parents across the country will be recoiling with horror at the news that a 12-year-old was fatally stabbed after a Christmas light switch-on in Liverpool. Our children will be hearing the news too. So how can you talk to them about what's happened in an honest but reassuring way?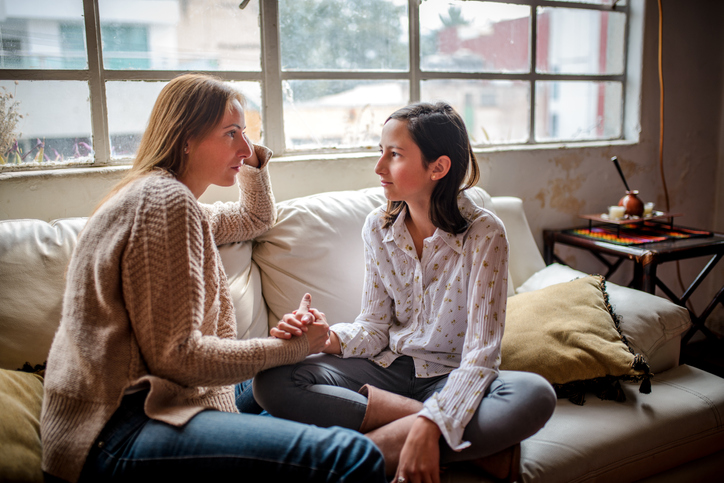 Ava White was out with friends when she was attacked, following what the police called "a verbal argument". The schoolgirl was taken to hospital where she died. A 14-year-old boy has been charged with her murder.
For Ava's family, her violent death is something they will probably never get over. Parents across Britain expressed their horror, and fears for their own children, on social media. One mother wrote: "And my 13 year old wonders why I have a meltdown every time he goes out. This is heartbreaking."
Our children will be hearing the news and, as well as feeling sorrow for Ava, they will be worried for their own safety, too. So, it is important that we don't project our own anxieties onto them. In fact, while gently reminding them about measures they can take with regard to their own safety, they should also be reassured and reminded that events like these are in the news because they are so rare.
Even before this tragic event, the NSPCC and ChildLine had been reporting a spike in calls to the helpline service in which children mentioned anxiety. This can be driven often by the instant spreading of news across the internet, leading to conversations in the playground where information becomes mixed up with misinformation.
As the responsible adults in children's lives, we need to be sure that they are getting accurate, impartial information that doesn't sensationalise or scaremonger. It needs to be truthful, yet reassuring.
First News children's newspaper, and other children's news media like BBC Newsround or Sky TV's FYI, can be useful platforms to start a conversation with your children. They all talk to children honestly, and unpatronisingly, about national and international events. News stories written especially for young people help them to make sense of the world in which they're growing up, giving the background to events and puts them in context. The effect of this is that, nearly always, it makes even frightening news, less scary.
We might all feel like we'd like to keep our children away from difficult news stories, but my advice is not to shield children from the news. News is everywhere and it travels fast. Like us all, children will hear about news events on the radio, TV, through the web and they hear about them in the school playground, too.
Children may know more than you realise, and this is what can be challenging. Stories can get distorted, confused when out of context, sensationalised or exaggerated. As a parent or grandparent it is almost impossible to censor which stories reach your child or gauge how they are interpreting them. But, you can play a key role in helping children properly understand what is going on, and answer their questions.
Here are 4 tips on how to talk to your child about what's happening in the news:
Talk about the main news events on a regular basis. Children need to understand that there are lots of good and bad things going on around them but, in most cases, they don't directly impact on the child's day to day life. This puts the news into perspective and can make events, like the horrific news from Liverpool, less frightening.
Avoid graphic details about worrying events, unless the child specifically asks. If they do ask, always answer honestly. They are probably asking because they have heard rumours already. It is always better to get worries and fears out into the open, rather than children bottling things up, and being frightened alone. Offer buckets of reassurance. Tell children that things are only in the news because they are unusual or rare events.
Discuss good news, too. There are thousands of good stories each week but they often get less attention in the adult media. Remind children that there are a lot more good people and good things happening in the world, than bad.
Finally, emphasise stories which can inspire children. Explain how every single person has the power to make a difference in their lives, how they can be a force for change and for good. Empower children with the understanding that the future is in their hands. First News always says: "Children are 27% of the world's people but 100% of the future."
Written by Nicky Cox MBE, First News Editor-in-Chief
29th November 2021
Categories
You might also like