This week's front page | Issue 801
20th October 2021
A giant puppet of a nine-year-old Syrian refugee called Little Amal arrived in the UK on Tuesday (19 October).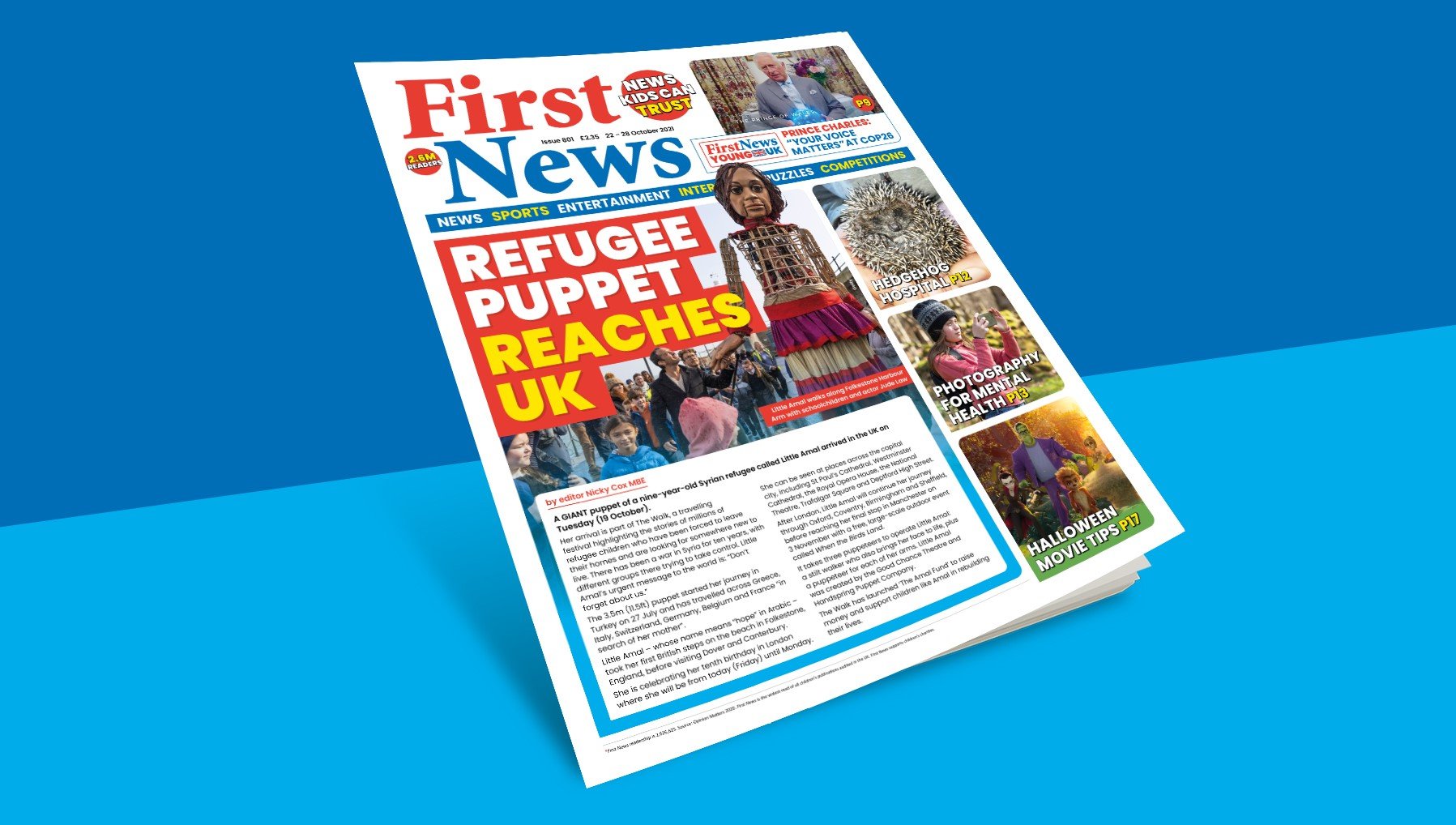 Her arrival is part of The Walk, a travelling festival highlighting the stories of millions of refugee children who have been forced to leave their homes and are looking for somewhere new to live. There has been a war in Syria for ten years, with different groups there trying to take control. Little Amal's urgent message to the world is: "Don't forget about us." The 3.5m (11.5ft) puppet started her journey in Turkey on 27 July and has travelled across Greece, Italy, Switzerland, Germany, Belgium and France "in search of her mother".
Little Amal – whose name means "hope" in Arabic – took her first British steps on the beach in Folkestone, England, before visiting Dover and Canterbury. She is celebrating her tenth birthday in London where she will be from today (Friday) until Monday. She can be seen at places across the capital city, including St Paul's Cathedral, Westminster Cathedral, the Royal Opera House, the National Theatre, Trafalgar Square and Deptford High Street. After London, Little Amal will continue her journey through Oxford, Coventry, Birmingham and Sheffield, before reaching her final stop in Manchester on 3 November with a free, large-scale outdoor event called When the Birds Land.
It takes three puppeteers to operate Little Amal: a stilt walker who also brings her face to life, plus a puppeteer for each of her arms. Little Amal was created by the Good Chance Theatre and Handspring Puppet Company. The Walk has launched 'The Amal Fund' to raise money and support children like Amal in rebuilding their lives.
Categories
You might also like