Junior Journalist – 'Reading is magic' competition winner!
23rd September 2021
by Trinity Beesley
I entered the Reading is Magic competition in First News and won! Having had a weekend of excitement preparing questions to interview an author/illustrator whose work I really like, the day had arrived for me to interview Rob Biddulph!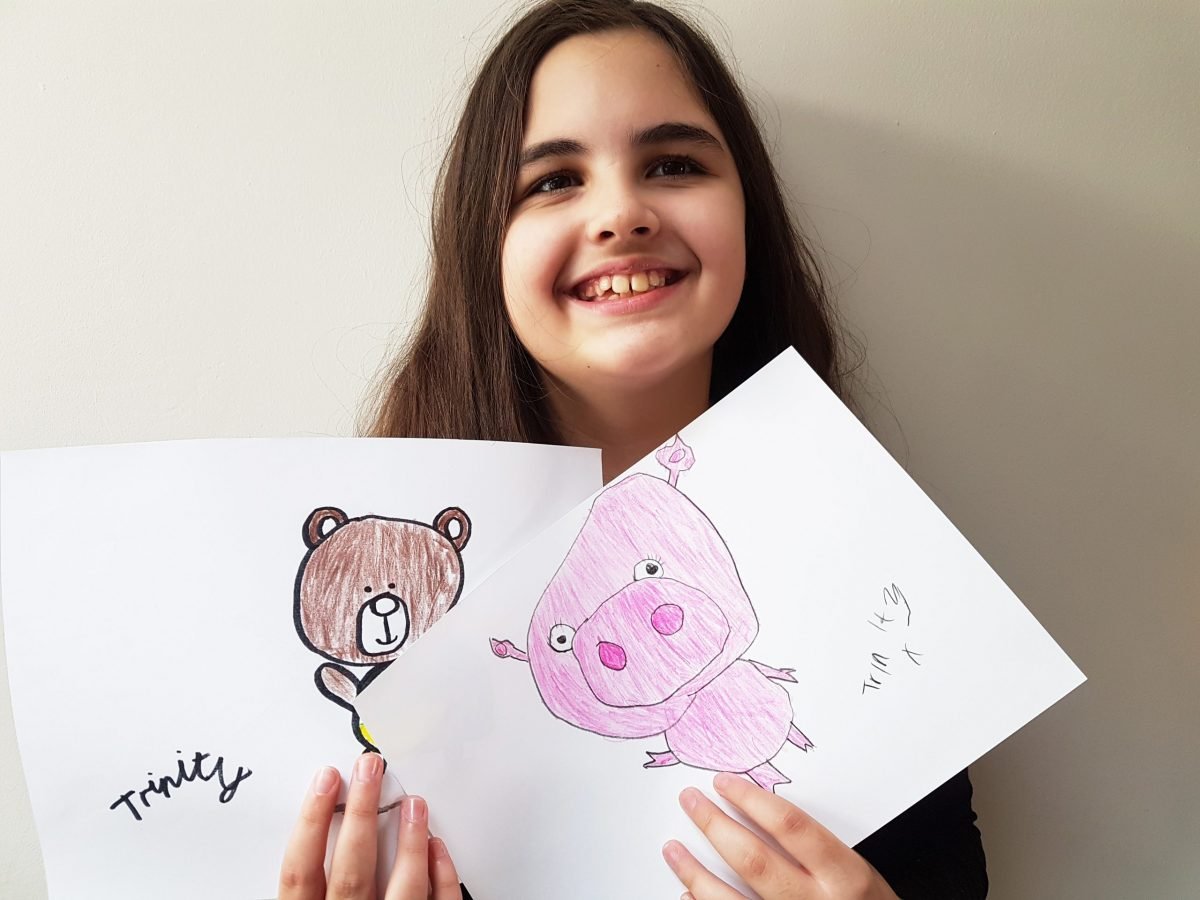 I'd got to know about Rob and his books over lockdown when he started doing #DrawWithRob videos where he would choose a character – often from one of his own books – and then do a draw-along video tutorial to watch on YouTube.
I'd done several of these including Gregosaurus, Kevin, sausage dog, Fred Bear and several more. One day I hope to complete all 100 drawings that there are #DrawWithRob tutorials for!
So armed with my list of questions, I logged into the Zoom call, which had been organised by Bath Children's Literature Festival, where Rob will be speaking in October. After saying hello to Rob and even more importantly to Ringo, who is Rob's dog, I got started on my questions. I began with some questions that I thought everyone would love to know the answers to… about what inspired Rob to start drawing and how old he was when he discovered that he was really good at it.
A family full of inspiration
Rob told me that his mum was really great at art and drawing, and that there would always be pens, pencils and paper in his home when he was growing up. So you would either find him drawing or outside playing football.
He explained how there were far fewer distractions in those days, such as the internet and gadgets, so he would spend the summer holidays creating his own comics from scratch. He'd invent the characters and draw the whole comic out, then get his dad to photocopy it and he'd pass the comics to his friends to read. That sounds so much fun!
I loved hearing about where he gets his inspiration from, as he explained how the inspiration for the character of Peanut Jones in his new book came from his daughter Poppy and the packed lunch Post-it notes that he would put in her lunchbox… every single day! Wow!
The loveable monster Kevin was another of his characters that was inspired by his children, based on an imaginary friend that his daughter Kitty had when she was younger.
I told Rob about my other hobbies of gaming and playing the guitar and it turned out that he likes gaming too. He plays Mario Kart and Zelda games with his family.
Rob has taught himself to play guitar, and both me and my brother also play guitar. I also heard about how he was nearly a professional footballer following in the footsteps of his uncle, but he chose to go to art college instead.
Painting pictures with words
He advised me to always be ready to receive ideas, as they may strike at any time… in the shower, at the shops, any time or place. He explained how there is no right or wrong when it comes to drawing; it's subjective, so his advice was to draw a lot and not to become self-conscious about it. His opinion is that EVERYBODY CAN DRAW!
As I have juvenile arthritis, which can affect many of my joints, including my hands, I asked Rob about any ideas for being creative even when my hands are hurting, which makes it hard to draw. He came up with a really great idea of recording stories using a recording device and to "paint pictures with words". He explained that when he is writing a book he uses pictures to tell one part of the story and the words tell another part of the story, so even when he is writing he is still thinking visually.
"Always be ready to receive ideas, as they may strike at any time" – Rob Biddulph
While chatting to Rob I wondered if there are any strange questions that he gets asked in interviews and there were two funny ones that he told me about. When he visits schools to do talks he often gets asked: "Can I go to the toilet?" by the children at school and he was also once asked: "When are you going to stop talking?" That's certainly not a question I would have asked, as I could have spoken to Rob for hours because I loved finding out more about the person behind the #DrawWithRob videos and books that I love so much.
Thank you to First News and to Bath Festivals, and of course to Rob too, for this amazing opportunity.
The Bath Children's Literature Festival is on from 24 September – 3 October. Visit www.bathfestivals.org.uk for more information.
Categories
You might also like